Space
Saver
Looking for all of the specifics or ready to share the details easily? Get access to our spec sheet for all booths now.
Spec sheet · 1.5MB (.pdf)
Clean and simple lines allow our furniture to integrate seamlessly into any space. Built for comfort and durability so you won't want to leave. The TWO offers a meeting space for two with a diagonal table and stools no furniture at all.
Table + Sofas
Perfect as a two person meeting room, or can be set up as a private office for focused work sessions.
Sturdy, Versatile, and Custom Fit
Durable, easy-to-clean table top
Powder-coated metal table leg
Integrated outlets and ports
Comfortable and resilient sofas
Monitor mount ready
Technically, the booths lower the sound by 26-30 decibels. For those who don't typically measure in decibels but measure through experience, Inboxes keep the conversations in the booth and the outside noise out of the booth.
All you need is a typical 3-prong outlet to power this booth. A motion sensor on the ceiling keeps the light on when in use and off when it is empty. Prefer more control? The light and fans can also be controlled by a switch. The fan speed is adjusted by a dial. The TWO has 1 USB, 1 USBC, 3 outlets, 1 ethernet port and the ability to mount a monitor and conceal the cord. Still need more power or connections? You can run any wires you'd like through the wire hole in the black glass.
Sometimes the best features are the ones you don't notice. Our fans keep the booth cool and also whisper-quiet so you don't have to sweat when hearing them. The TWO comes equipped with one high powered adjustable speed fan. The air is cycled in and out in less than 3 minutes.
Tempered glass and
aluminum frames
Our booths are made with a solid aluminum frame so you can rest assured that you will get many years of use from them. We also chose to use tempered safety glass for its acoustic dampening properties instead of the cheaper industry-standard plexiglass.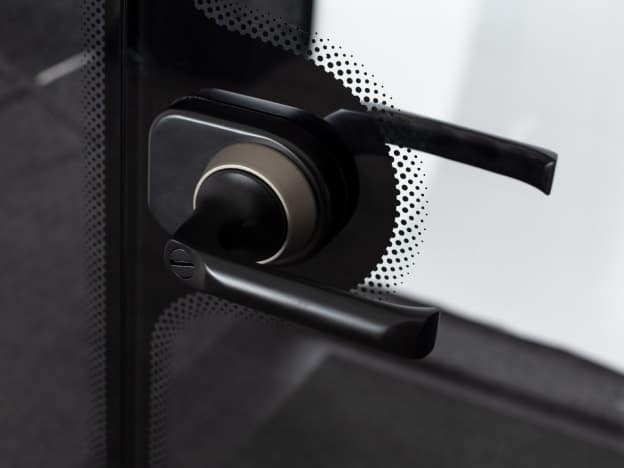 The booths can be moved within the same space easily using the Inbox Moving Kit and two people. The TWO can be slid along the floor with some effort by 2-3 strong people and no moving kit. Take the booth with you when you move locations!
Inbox Booths minimize construction emissions and waste. Greener choices are integrated into the product with aluminum and glass, highly recyclable materials. The engineered sound panels are made of recycled plastic bottles. The booths are efficiently flatpacked in recyclable cardboard crates.
If you're looking for ADA compliant accessible options, please contact us and we'll share additional options.

Inbox Booths are also FSC, ISO, UL and ETL, certified and formaldehyde free. Contact us for a full list and details of certification.